The Daytona 500 is a 500-mile race that is under the auspices of the Monster Energy NASCAR Cup Series. This year marks the 63rd outing of the race.
Denny Hamlin won the Daytona 500 last year – hopefully you bet on him – and earned 50 points at the start of the NASCAR Season. He's likely going to be a good Daytona 500 bet in 2021
Odds to Win the 2021 Daytona 500
It's much too early for Daytona 500 betting, but consider the odds from before the start of the race last year to make an educated guess on who to pick.
| Driver | Bet on these odds* |
| --- | --- |
| Joey Logano | +1000 |
| Brad Keselowski | +1100 |
| Chase Elliott | +1300 |
| Denny Hamlin | +1300 |
| Kevin Harvick | +1300 |
| Jump to see more odds | *Daytona 500 betting odds are subject to change. |
The thrilling race is held at Daytona International Speedway, located in Daytona Beach, Florida, USA.
Below, get some helpful information to help you make the most out of Daytona 500 betting.
Jump to
Daytona 500 Picks
Joey Logano heads into the race as the Daytona 500 favorite in 2020, with 10-1 odds. Logano won the 2015 Daytona 500 and has been able to finish top six in four starts since. Despite Logano's success at the event, many have questioned his place as a favorite for 2020. Much of the speculation has been due to the driver's drop off towards the end of the 2019 season.
Other Daytona 500 favorites according to sportsbook odds include Brad Keselowski and Kyle Busch getting 11-1 and 13-1 odds respectively. Busch won the 2019 Monster Energy NASCAR Cup Series and is now a 2-time winner of NASCAR's highest circuit.
Keselowski is one of only four drivers to win a championship in both the Cup Series and the Xfinity Series. He finished 12th in last year's Daytona 500.
If you're looking for an underdog, be sure to keep an eye on Clint Bowyer. A relatively long shot at 20-1, Bowyer is a 10-time NASCAR winner with a proven record on the track. He comes off his best finish last year since 2013, ending the season in 9th place. Expect big things from the veteran this season.
As you can tell, these Daytona 500 picks are quite interesting. There is a high chance that any of these racers might be the first over the finish line. It only makes the whole betting experience even more entertaining.
Return to see our Indy 500 betting picks as well in May.
More Daytona 500 betting odds to win
| Drivers | Odds* |
| --- | --- |
| Kyle Busch | +1300 |
| Martin Truex Jr | +1600 |
| Ryan Blaney | +1600 |
| Kurt Busch | +1800 |
| Clint Bowyer | +2000 |
| Ricky Stenhouse | +2000 |
| Alex Bowman | +2200 |
| Aric Almirola | +2200 |
| Jimmie Johnson | +2200 |
| William Byron | +2200 |
| Erik Jones | +2500 |
| Kyle Larson | +2500 |
| Austin Dillon | +3200 |
| Daniel Suarez | +3200 |
| Matt DiBenedetto | +3200 |
| Christopher Bell | +4200 |
| Ryan Newman | +4200 |
| Cole Custer | +5000 |
| Paul Menard | +5000 |
| Tyler Reddick | +5000 |
| Ross Chastain | +6500 |
| Daniel Hermic | +7000 |
| Darell Wallace Jr | +7000 |
| Ryan Preece | +7000 |
| Chris Buescher | +7500 |
| John Hunter Nemechek | +7500 |
| Michael McDowell | +7500 |
| David Ragan | +11000 |
| Ty Dillon | +11000 |
| JJ Yeley | +12000 |
| Quin Houff | +12000 |
| B.J. Mcloed | +14000 |
| Brendan Gaughan | +14000 |
| Matt Tifft | +14000 |
| Cody Ware | +16000 |
| Caory Lajoie | +16000 |
| Garrett Smithley | +16000 |
| Joey Gase | +16000 |
| Parker Kligerman | +16000 |
| Timmy Hill | +16000 |
| Bet on DraftKings Sportsbook | *Daytona 500 betting odds are subject to change. |
Daytona 500 Betting Types
Most online sportsbooks give bettors a number of Daytona 500 betting options to work with. Some of the most popular betting types you can look forward to this year are:
Outright Wins
As probably the most simple betting type outrights let you simply bet on which racer you think will win the race. Each Daytona 500 pick will be given separate odds based on their chance to win.
Fastest Lap
The fastest lap wager gives you the chance to pick which driver will have the single fastest lap from the race. Whether the racer wins the race is irrelevant, the bet requires picking the racer with the fastest lap time.
Future Bets
Future wagers are beyond just Daytona 500 betting, They allow you to place wagers on the overall winner of the NASCAR season. Future bets odds can vary greatly over long periods of time based on results. Make sure you keep an eye on odds to get in at the best time.
Driver Matchups
With Daytona 500 betting matchups the sportsbook pits two drivers against each other. You have to choose which of the two will finish in a better position than the other. How they finish in relation to the rest of the field doesn't matter.
Expect popular matchups to come between drivers who have similar odds to win the race. Example: Kyle Busch and Chase Elliot both start the 2020 Daytona 500 with +1300 odds.
How to Bet on Daytona 500
Daytona 500 betting online is very easy to set up and should only take a few minutes of your time. Use the following step-by-step guide for assistance:
Find a licensed online sportsbook of your choice. The best option may be to search for sports betting sites that are available in your state.
Once you've found a sportsbook you'd like to wager on, register at the operator. To do this you will be required to fill out a registration form with personal details. You may also be required to verify your identity.
Be sure to look out for sportsbook bonuses for extra bonus cash or free bets when you create your account.
Make a deposit using a payment method of your choice. Available payment options will be listed in the Cashier section of the sportsbook.
Search for the 'Auto-racing' section of the sportsbook. The Daytona 500 race should be listed under NASCAR events.
Click on the odds of the wager you would like to bet on. The bet will pop-up on a betting slip. Type in your wager amount and confirm your wager.
Visit the 'My Bets' or 'Past Bets' section to keep an eye on your wager.
*If you run into issues registering or placing your Daytona 500 bet contact customer support for assistance.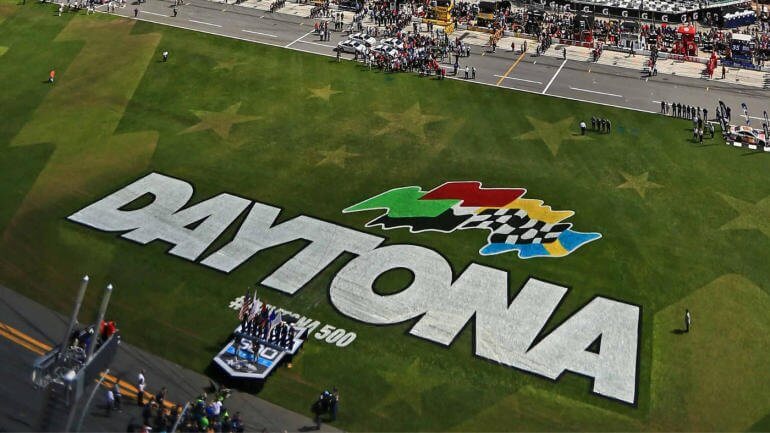 It is time to take steps that might put some money in your pocket. If you want to bet on the Daytona 500, make sure you have the right skills. It does not stop at locating the sportsbooks and staking on odds to win Daytona 500.
We present to you some of the factors that will help you cash out from your Daytona 500 picks.
Performance
Have an eye for details and search for drivers and car manufacturers that won in the past races. Yet, it is important to understand the metrics. This will save you some headaches. It is pertinent to look at the teams, manufacturers, and drivers individually. If a driver ported to another team and does better there, you can make Daytona 500 predictions on the future prospects.
The Track
Some drivers perform better on specific tracks. If you have a favorite Daytona 500 driver, check his past records on different tracks. This will help you access and come to a conclusion on how to bet on Daytona 500.
Qualification
If a car can scale the hurdles of every lap, there is a chance that it is a good pick for Daytona 500. Hence, access the milestones recorded in the past races and choose the car that will help you profit from Daytona 500 betting.
Daytona 500 Betting Final Thoughts
The Daytona 500 is one of the most anticipated betting events of the year in the US. Virtually every online sportsbook will be featuring the race, with most providing a variety of betting markets. Likely markets you can look forward to are Outrights, Fastest Lap, Futures and Driver Matchups.
The favorite for this year's race based on sportsbook odds is Joey Logano. Other front runners this year include Brad Keselowski, Chase Elliott, Denny Hamlin, Kevin Harvick, Kyle Busch.
To ensure you don't miss out on Daytona 500 betting find an online sports betting site that suits your betting style. Odds can vary at different sportsbooks, so try your best to find the operator that gets you the best turnover!