IP Casino Sportsbook in Biloxi 2021
Commercial Content | 21+ | T&Cs Apply
The IP Casino Resort will be one of the multiple land locations in Mississippi that is now offering a full-service sportsbook for patrons. This exciting sportsbook has finally opened its doors and is now accepting real money wagers on a wide variety of sporting events that are being played all over the world.
| IP Casino Sportsbook | Operational Hours |
| --- | --- |
| Monday – Friday |      10:00am – 12:00am |
| Saturday-Sunday |      9:00am – 12:00am |
With a full range of sports, many different betting options and a number of perks for those that are loyal to the sportsbook, the IP Casino Resort Sportsbook is one that will quickly become a top choice for anyone that is looking to engage in thrilling betting action and enjoy high returns. The sportsbook is located on the second floor of the casino and offers big-screen TVs, updated scoreboards and more, presenting avid bettors with a great way to relax and place bets on their favorite teams and great events.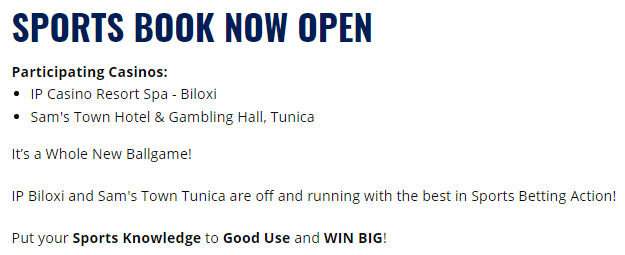 IP Casino Bonus Offers that will be available
The IP Casino is one of the trusted casino resorts in the Magnolia State and there are always great player incentives that can present one with rewards for being loyal. The same holds true for the newly opened sportsbook. While there are no bonus codes to redeem since online betting is not yet regulated, there are sure to be some great promotional offers being presented on the casino floor. Those that are looking to start placing bets on top-rated sports events will find that the new IP Casino Sportsbook will offer numerous perks, which can include free bets, special bonus offers, and so much more.
Those that visit IP Casino will also benefit from the B Connected Program, which is offered at all Boyd Gaming casinos in the state and in other places across the United States. This program offers an amazing players club that can provide many ways to make use of points that are collected as one engages in any form of real money betting while at the casino location.
IP Casino Sportsbook Mobile App
While many who have experience betting on sports will have placed their wagers online or by using mobile sportsbooks, this option is not yet available with the IP Casino Sportsbook. Mississippi is one state that has not yet regulated online gambling, though it may be in the near future. At this time, there is no mobile app for the IP Casino or the newly operational sportsbook, so patrons will have to pay a visit to the land location to start benefitting from the great odds and amazing betting options that are supported.
There is a way for mobile gamblers to place some bets at IP using their devices. If they are located anywhere within the casino, they can place wagers with a mobile device, but this service does not extend outside of the physical casino location. It is believed that Mississippi will soon be regulating online gambling so that those already enjoying the thrilling sports betting experience at IP Casino will also be able to engage in the same action from the comforts of home using their mobile devices. When a mobile platform does become available, one can expect a full range of betting services along with amazing bonus codes and special promotions that can enhance the betting experience and boost account balances.
IP Casino Resort and Sportsbook Mississippi
IP Casino has a long and solid history in the state of Mississippi and with the offering of a new sportsbook, the gambling experience is enhanced even further. This is the second Sportsbook to open in Mississippi following the opening of the Beau Rivage Sportsbook. At the IP Sportsbook, those who visit the casino can enter a relaxing sportsbook lounge where they will enjoy all betting services and a great sports environment. The sportsbook is conveniently located on the second floor of the resort by the sports bar.
Not only will visitors be able to easily and quickly place their wages, but they will also benefit from all other casino services during their visit. There are amazing restaurants and bars to offer a bite to eat and there is also a cocktail service that is available at the new sportsbook. Offering an amazing environment, great betting options, and some amazing chances to generate returns, the new IP Casino Sportsbook has already attracted the attention of thousands of sports bettors in the state.
IP Casino Sportsbook Review Conclusion
Sports betting is the newest form of gambling to be legalized and regulated in the state of Mississippi and IP Casino is the second major casino resort to offer a sportsbook for patrons. Here, one will find the ability to place all types of wagers on all major professional sports and they can also wager on college sports, political events and more.
The sportsbook offers a lavish design and presents a comfortable way to sit back and watch games on the big screen TVs, place in-game bets or plan future bets by using the scoreboard that is always being updated. At IP Casino Sportsbook, bettors will always have a positive experience and as one of the few operational sportsbooks in the state, this location is a hot spot for anyone that enjoys the thrills of live sports betting.
IP Casino Sportsbook Review
Summary
As a new sportsbook that only opened the 1st of August, we won't give the IP Casino sportsbook 5/5 stars. However, to date, we've heard of no major problems and don't see any reason why this won't be one of the best sports bookmakers in Mississippi! Should they choose to add a mobile sports betting option or publish special bonus offers online, we'll update our review about them and see whether or not the IP Casino sportsbook deserves more stars.