The biggest horse racing event of the year also means (potentially) the biggest payouts in horse racing. Read our guide for Kentucky Derby Betting and find the racebooks with the best odds!
Keep reading for our picks on The Kentucky Derby this year.
Jump to
Best Kentucky Derby Betting Sites 2023
While there is still time left before the race, some bettors have already begun making their picks. We recommend TVG & Twsinpires as the top sites for your Kentucky Derby betting.
TVG online betting operator is one of the top sites to place Kentucky Derby 2022 bets. They already have an extensive array of sports bets that they allow the registered players to place. But an additional advantage is offering daily and updated markets for the Kentucky Derby. They understand the importance of race and are giving it all the attention it needs.
Furthermore, Twinspires is an equally good operator when it comes to placing Kentucky Derby 2022 wagers. You will be able to find all the races related to this race which are updated with the most current odds. Also, the betting system is easy even for novice horse racing bettors.
Kentucky Derby Horses 2021
The list of Kentucky Derby 2022 horses is yet to be determined as qulaifiacitons are still ongoing. But as they are entering the final round, Epicenter (trained by Steven M. Asmussen and jockeyed by Joel Rosario) is leading the fold. Simplification in the sophmore position (trained by Antonio Sano and jockeyed by Jose L.Ortiz).
Last year, the winner of the 2021 Kentucky Derby was Mandaloun (Brad Cox trainer and Florent Geroux jockey), while Hot Rod Charlie (trained by Doug O'Neill and jockeyed by Flavien Prat) ended as runner up.
Here are the last year's results.
| Finish | Horse | Trainer | Jockey |
| --- | --- | --- | --- |
| 1. | Mandaloun | Brad Cox | Florent Geroux |
| 2. | Hot Rod Charlie | Doug O'Neill | Flavien Prat |
| 3. | Essential Quality | Brad Cox | Luis Saez |
| 4. | O Besos | Greg Foley | Marcelino Pedroza |
| 5. | Midnight Bourbon | Steve Asmussen | Mike Smith |
| 6. | Keepmeinmind | Robertino Diodoro | David Cohen |
| 7. | Helium | Mark Casse | Julien Leparoux |
| 8. | Known Agenda | Todd Pletcher | Irad Ortiz Jr. |
| 9. | Highly Motivated | Chad Brown | Javier Castellano |
| 10. | Sainthood | Todd Pletcher | Corey Lanerie |
| 11. | Like the King | Wesley Ward | Drayden Van Dyke |
| 12. | Bourbonic | Todd Pletcher | Kendrick Carmouche |
| 13. | Hidden Stash | Vicki Oliver | Rafael Bejarano |
| 14. | Brooklyn Strong | Daniel Velazquez | Umberto Rispoli |
| 15. | Super Stock | Steve Asmussen | Ricardo Santana Jr. |
| 16. | Rock Your World | John Sadler | Joel Rosario |
| 17. | Dynamic One | Todd Pletcher | Jose Ortiz |
| 18. | Soup and Sandwich | Mark Casse | Tyler Gaffalione |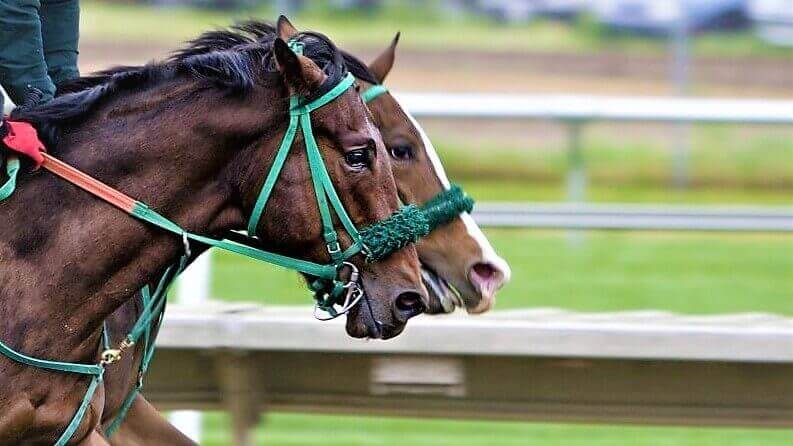 How to bet on the Kentucky Derby?
To place Kentucky Derby 2022 bets, you need a viable operator. Doing some research is key, but you can start by going with our suggestions – TVG and Twinspires. Both of these operators are more than efficient in helping you find great horse racing opportunities, especially Kentucky Derby wagers.
What you can do is:
Visit one of the two operator's websites.
Look through thier offers and study the odds carefully.
If you like what you see, consider creating an account.
Fund your player's wallet.
Create your bet slip and wager an appropriate amount.
Once your bet is complete, the rest of what you need to do is wait and enjoy the end of the races. To better understand what the operator has, you can read our TVG review and find out all the necessary details. You can do the same with Twinspires and can even use a Twinspires offer code to sign up. All in all, a world of Kentucky Derby 2022 betting opporunties awaits you.
The history of the Triple Crown and Kentucky Derby Betting
Triple Crown is quite similar to a "hat trick" in soccer or hockey in that someone must win three prestigious events in a row. However, in the United States, The Triple Crown of Thoroughbred Horse Racing is the most widely known. It's sometimes shortened to just the American Triple Crown. In this series, a horse and jockey must win three of the biggest horse racing events in the country. Starting with the Kentucky Derby, moving to the Preakness Stakes, and finally the Belmont Stakes. If you bet on the Triple Crown winner before the start of the Kentucky Derby, expect big earnings!
The races, beginning with the Kentucky Derby, always start around the end of spring and go into early summer. This year, the Kentucky Derby kicks off on May 3rd and 4th; the other events in Triple Crown follow shortly after. This event, unsurprisingly, takes place in Kentucky annually at the Churchill Down racetrack in Louisville. The event is exclusively for three-year-old thoroughbred horses. The winner of this race gets a drape of roses put around their horse's neck which is why it's also often referred to as "The Run for the Roses."
Throughout the races' history,only13 horses have even won the Triple Crown. You might remember the horse Justify from 2018, he and jockey Mike Smith were the latest to earn the achievement.
What are the kinds of horse race bets?
There are a lot of
horse race bets
you can make on The Kentucky Derby. Maybe you don't want to take the risk of betting a lot on a Triple Crown winner (that's fairly unlikely anyway). You might find some of these types of best more to your liking:
Select to Winjust when you make your pick of who you think will win. This is far less risky than picking the winner of The Kentucky Derby and then two other races.
Showbets mean that your horse must place in at least the 3rd position. Not too hard to win, but not huge payouts either.
Place means that you're betting on your horse finishing in either first or second place.
Exactabets are where it gets pretty difficult. Here, you're choosing the 1st and 2nd place finishers in the correct order.
Trifecta bets are even more difficult (and higher-paying than the previous bets. Here, you must correctly select the 1st, 2nd, and 3rd place finishers.
Supertrifectabets imply choosing the horses which will finish the race first, second, third, and fourth, in the proper order.
Pentafecta / Super Hi- 5 bets are predictions of the horses that will finish first, second, third, fourth and fifth, in the correct order, of course.