Belmont Stakes Online Betting 2021
Commercial Content | 18+/21+ | T&Cs Apply
Please bear with us while we work on updating our Belmont Stakes betting guide for 2021. The 2021 Belmont Stakes will take place on June 5, 2021.
---
The 2020 Belmont Stakes winner is Tiz the Law!
Welcome to your Belmont Stakes Online Betting guide. This year, due to unprecedented circumstances, the Belmont Stakes became the first leg of the American Triple Crown is the Belmont Stakes. The 2020 Belmont Stakes will took place on June 20, 2020. The other Triple Crown races – the Kentucky Derby and the Preakness Stakes – have been postponed to later in the year. The Belmont Stakes race time is 3-6 p.m. ET.
Bet on the Belmont Stakes to take home a healthy payout! With the 2020 race ahead of us, betting on Belmont Stakes online is a fun opportunity to participate in the event from wherever you are watching it. Information on the Belmont Stakes entries, picks and predictions will be coming soon.
Belmont Stakes Online Betting Sites
These top online racebooks will allow you to easily and conveniently bet on the Belmont Stakes. When choosing our top Belmont Stakes Betting Sites, we took into consideration user-friendliness, live streaming options, welcome bonus and extra features.
Racebook
Key Features
Go To Site & Sign Up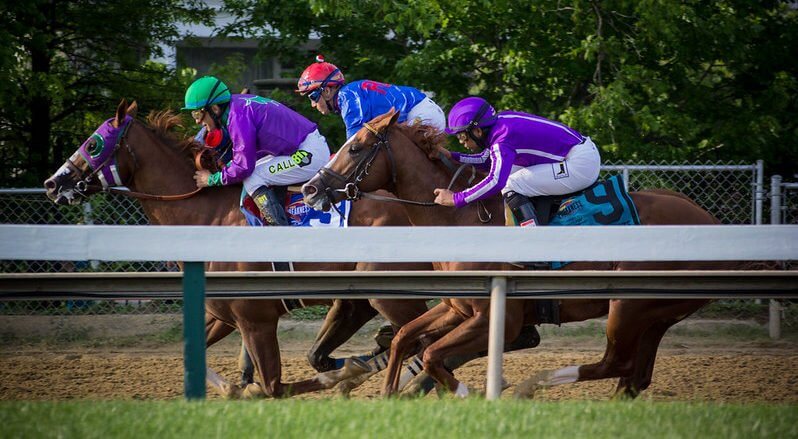 The Belmont Stakes Horses 2020
The Belmont Stakes Entries 2020 have now been announced. Here are this year's Belmont Stakes Entries and their morning line odds as of June 17:
Silks Colors
Post, Horse & Odds
Info
Bet Now
Belmont Stakes Favorites, Picks, Predictions
The favorite going into the Belmont Stakes will easily be Tiz the Law, who is the most accomplished horse in the field and the only one with a Grade 1 stakes win. He leads the Road to the Kentucky Derby point standings. The colt registered a Beyer Speed Figure of 100 in the Florida Derby and took the Holy Bull by 4.25 lengths.
The second choice should be Dr Post, who has the benefit of being trained by Hall of Famer and three-time Belmont Stakes winner Todd Pletcher. While he has only raced three times, he will be looking to take his first big victory.
The third and fourth choices will likely be Tap It to Win and Sole Volante.
Another top runner, Sole Volante's connections are saying he deserves to be listed up there with great horses like Tiz the Law.
Tap It to Win will benefit from recently running at Belmont, where he covered the 1.0625-mile distance in just 0.54 seconds to win a June 4 allowance race. He was right off the track's record.
However, Tap It to Win had to pay his way into the Belmont Stakes since he wasn't nominated to the Triple Crown races.
The Belmont Stakes Results 2019
| Horse | Finish | Jockey | Trainer | Odds |
| --- | --- | --- | --- | --- |
| Sir Winston | 1st | Joel Rosario | Mark Casse | 12-1 |
| Tacitus | 2nd | Jose Ortiz | Bill Mott | 9-5 |
| Joevia | 3rd | Joese Lezcano | Greg Sacco | 30-1 |
| Tax | 4th | Irad Ortiz Jr. | Danny Gargan | 15-1 |
| Master Fencer | 5th | Leparoux | Tsunoda | 8-1 |
| Spinoff | 6th | Javier Castellano | Todd Pletcher | 15-1 |
| Everfast | 7th | Luis Saez | Dale Romans | 12-1 |
| Intrepid Heart | 8th | John Velazquez | Todd Pletcher | 10-1 |
| War of Will | 9th | Tyler Gaffalione | Marc Casse | 2-1 |
| Bourbon War | 10th | Mike Smith | Mark Hennig | 12-5 |
Belmont Stakes Payouts 2019
Here are the 2019 Belmont Stakes payouts:
$1 Superfecta – $10,428
$1 Trifecta – $1,244
$2 Trifecta with Tacitus in 2nd and Joevia in third – $96
$1 Exacta – $48
Sir Winston: Win – $22.40, Place – $8.80, Show – $6.10
Tacitus: Place – $3.90, Show – $3.20
Joevia: Show – $8.70
How to bet on Belmont Stakes?
Betting at the Belmont Stakes is often an event that garners national attention. It's the final race of the Triple Crown and if someone has already won the Kentucky Derby and Preakness Stakes, it's their last chance to show up and take the title. Or it's the last chance for a competitor to get in the way and rob them of their glory. Either way, a good horse race bettor will know how to recognize the signs of a smart bet at Belmont Stakes. Did the winner of the first race narrowly win in round two? What are the track conditions? Often, horses perform very differently in weather that's too hot or if it's rainy. These are important decisions to weigh when engaging in Belmont Stakes online betting.
It's a must for any smart bettor to conduct a lot of research. You might as well consider a poorly researched bet a wasted bet. Checking our Belmont Stakes odds is a good starting point.
Once you've got your wager in mind, it's time to find a racebook such as TVG. Different horse racing bookmakers will set different odds. Ideally, you want to find the bookmaker with the best odds on the horse you want to win the Belmont Stakes. That might take a little shopping.
Register at your bookmaker when you're ready. Be sure to claim any welcome bonus! Check our table to see who's got the best bonus offers.
Make a betting slip and select your horse as the winner. Feel free to make any other bets on the multiple races throughout the event.
As enticing as it might be to bet big on the Belmont Stakes, we don't necessarily advise it. At US-Bookies, we believe that betting is entertainment and you should only bet what you can afford to lose. Whether that's $1 or $100s, or even not betting, it's your responsibility to be in control of your bank account and don't risk your financial security for the sake of betting on the Belmont Stakes.
Rounding out the Triple Crown, the Belmont Stakes
The Triple Crown is a series of three horse racing events that take place in America. The Belmont Stakes is the last event in the series, but sometimes it's the most important. If the same horse and jockey have won the preceding two races, all eyes are on the Belmont Stakes. In the entire history of the series, only 13 horses have won all three and won The Triple Crown. You probably remember hearing about Justify, this horse earned the title most recently in 2018. So what is your Belmont Stakes wagering strategy? Will you choose to bet on an upset or are you falling in line with the bookmakers' odds? No matter what you pick, ensure it's well researched about thought out.
In 2019 the Belmont Stakes took place from June 7-9. It takes place at Belmont Park race track in Belmont Park, New York, and has been held here for quite a long time. Even if you don't want to wager on the event, it can be an exciting day in itself to just go and watch!
The Belmont Stakes Odds before the Race 2019
| Horse | Post | Jockey | Trainer | Odds |
| --- | --- | --- | --- | --- |
| Joevia | 1 | Joese Lezcano | Greg Sacco | 30-1 |
| Everfast | 2 | Luis Saez | Dale Romans | 12-1 |
| Master Fencer | 3 | Julien Leparoux | Koichi Tsunoda | 8-1 |
| Tax | 4 | Irad Ortiz Jr. | Danny Gargan | 15-1 |
| Bourbon War | 5 | Mike Smith | Mark Hennig | 12-1 |
| Spinoff | 6 | Javier Castellano | Todd Pletcher | 15-1 |
| Sir Winston | 7 | Joel Rosario | Mark Casse | 12-1 |
| Intrepid Heart | 8 | John Velazquez | Todd Pletcher | 10-1 |
| War of Will | 9 | Tyler Gaffalione | Marc Casse | 2-1 |
| Tacitus | 10 | Jose Ortiz | Bill Mott | 9-5 |
Our picks & predictions for 2020
Following Maximum Security's disqualification from the Kentucky Derby earlier, it was Country House who took up the 1st place, followed by Code of Honor and Tacitus. Due to illness, the horse did not compete in the Preakness stakes, leaving no chance of a Triple Crown winner this year. However, other great contenders were competing for the Belmont Stakes in 2019.
Tacitus, who ended third at the Kentucky Derby, was one of the favorites this year. The horse with the best odds, however, was War of Will, winner of this year's Preakness Stakes. Let's not forget Master Fencer, Justaway's Japanese-bred son, who has been seen stumbling during practice, but was confirmed to be in good health and ready to compete.
How to place bets on horse racing?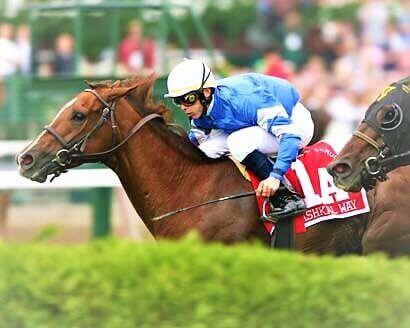 Somewhat surprisingly, it's not always so straightforward to make a bet. In horse racing, there are a ton of options to choose from. Some of your betting types won't pay out very high but the odds are more likely; and some, like a Pick 6 are very unlikely but with payouts regularly in the six figures. If you need help finding out about how to bet on horse racing, try reading our guide. We break down the different types of horse races as well as clearly explain all of the betting options you have. Don't just bet on the winner of the Belmont Stakes, there is a lot you can do to get creative.
Belmont Stakes Online Betting FAQ
When is the Belmont Stakes race?
This year, 2020, the race will take place on Saturday, June 20. In general, Belmont Stakes takes place annually on the first or second Saturday in June, three weeks after the Preakness Stakes and five weeks after the Kentucky Derby.
How many horses run in the race?
Belmont Stakes has a maximum limit of 12 horses, although it's unusual that 12 horses actually participate in the same race. In 2018, for example, there were just 10 runners in the race, and in 2017 there were 11 runners.
How much does the winner of the Belmont Stakes receive?
The total prize for the Belmont Stakes is $1.5 million, which will be divided among the top eight finishers. The winner will collect $800,000.
When does the Belmont Stakes race begin?
This year, the Belmont Stakes will take place at 3pm-6pm. EST. On NBC, television coverage of the event will start at 3 p.m. EST.
Which jockeys and trainers have been most successful at the Belmont Stakes?
In the early days of the race, Jim McLaughlin was clearly the most successful jockey. He won an incredible six in seven races between 1882 and 1888.
The most successful trainer in the history of the Belmont Stakes is James G. Rowe Sr., who held an incredible eight wins. He first won in 1893, with his final success in the race coming in 1913. He also won the race twice as a jockey.
Over a total of 15 years from 1941-1955, Eddie Arcaro matched the six wins.