Harrah's Race & Sportsbook is located within the Harrah's Las Vegas casino. This bookmaker has over 30 HDTVs and lots of cozy space where bettors can have fun with their friends while they are placing bets.
There is a good possibility that this bookie will start operating as a Nevada online sports betting platform soon. Read the rest of our review to find out what we can expect from this sportsbook.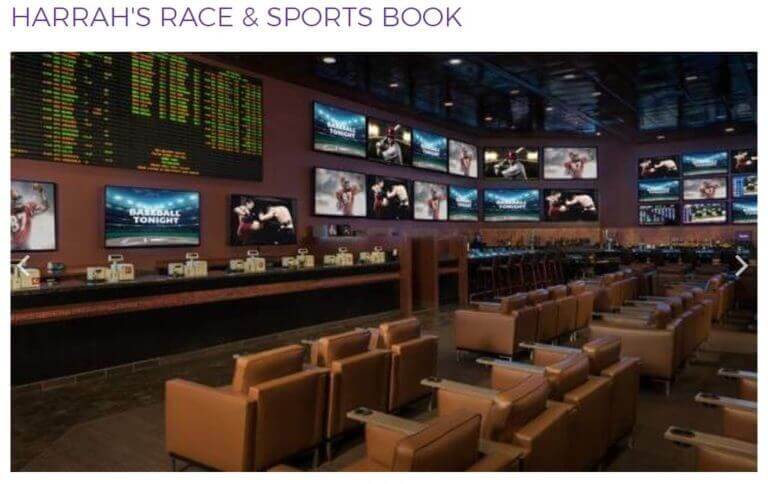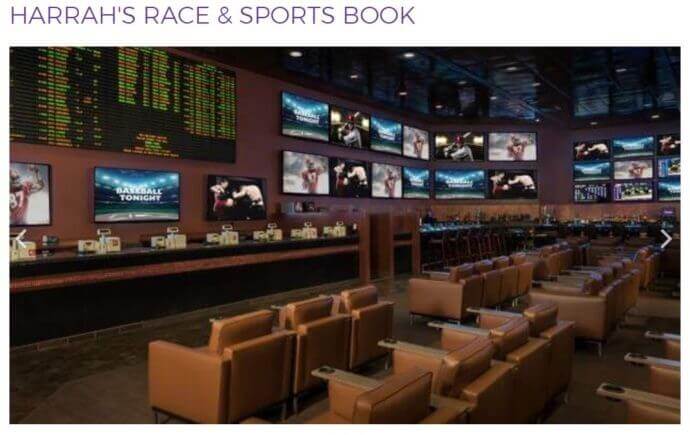 Jump to
Is There a Harrah's Race & Sportsbook Promo Code?
| Harrah's Race & Sportsbook Bonus | Details |
| --- | --- |
| Welcome Offer | TBA |
| Minimum Odds | TBA |
| Minimum Deposit | TBA |
| Expiration Date | TBA |
| Last Verified | Sep 22, 2023 |
At the moment, this bookmaker's website is not yet active in NV, so players can't place their bets online just yet. Therefore, the Harrah's Race & Sportsbook promo code is also not available. We are hoping to see this kind of promotion whenever this bookmaker goes online.
However, if you're heading to NJ anytime soon, you can bet with Harrah's online sportsbook, Caesars Sportsbook, in the Garden State!
The welcome bonus is a common practice in the online betting industry. It helps the operators, like this one, attract new customers to their platform. Additionally, this bookmaker might offer other promotions to their customers once it starts operating as an online sportsbook.
Harrah's Race & Sportsbook Games
Once this sportsbook goes live, we will most likely be able to place bets on many different sports.
Most of the time, online bookmakers present their daily games by sorting them out into categories like:
Football
Basketball
Hockey
Baseball
Soccer
Formula 1
NASCAR
UFC/MMA
And more!
This is the reason why we are probably going to see something similar when this sportsbook starts offering their bets online.
Live Betting & Streaming
These two additional features tend to make the betting experience so much better.
There is most likely going to be some form of the Live Betting option available on this sportsbook because most online bookies in the US are providing their players with this feature. If they add this feature, you'll be able to bet on upcoming games such as the Rose Bowl on New Year's Day.
The Live Stream feature helps you watch sports events while they are taking place and you can also bet on them. Live streaming tends to be difficult to implement on many online bookmakers because of all the legal rights and licenses that are required.
We still need to wait and see if any of these additional options will become available at this online sportsbook.
Harrah's Race & Sportsbook Mobile App
A good deal of online betting community in the US likes to use their mobile devices while placing their bets.
Using your smartphone or tablet device can make betting a lot easier if you are traveling or just waiting in line. All you need is your mobile device and a solid internet connection.
This app, if launched in NV, will definitely be available for both iOS and Android.
Payment Methods
In order to provide its customers with a lot of options for deposits and withdrawals, the Harrah's Race & Sportsbook will probably offer a variety of payment methods.
The players will likely be able to choose from a list of popular online payment services like:
Visa
MasterCard
Skrill
PayPal
Neteller, etc.
Every player has their own preferences when it comes to payment methods. This is why it is important for an online sportsbook to give a lot of choices to their users.
Customer Service
Like with any online gambling platform, some players might experience occasional issues. This is where the customer service comes in and it should be provided with high-quality support.
We are eager to find out how will this bookie organize their customer support system. Most of the online bookies have a very detailed FAQ section for players to browse through.
There are also customer support teams available 24/7, most of the time, at the other online bookies which can be reached through an email address, phone number or a live chat feature.
We still need to wait for this sportsbook to launch their online betting platform before we can claim with certainty what kind of customer service they will provide.
Final Thoughts on Harrah's Sportsbook
So far, the Harrah's Race & Sportsbook is doing a good job giving their players lots of opportunities to enjoy sports betting.
We are expecting to see a lot of good things coming from this operator once their betting platform goes online.
Drop by this review sometime in the near future to find out the latest news on this topic.