Big news for Greenbrier Casino in West Virginia! The Casino Club has opened a sportsbook where you can bet on sports and win real money. The Casino Club at the Greenbrier in West Virginia has always had a lot of high-class entertainment activities to offer; now, you can add sports betting to that list. 
Jump to
A step above other sportsbooks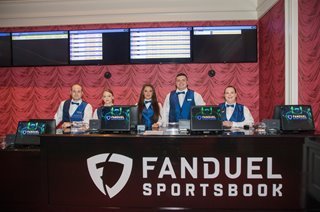 The Casino Club sports betting offers a different sports betting experience than your typical sports bar might. For one, the Greenbrier is a top-of-the-line casino resort in WV. The Casino Club is only available for overnight guests and members of various Greenbrier activities like the golf & tennis club. Furthermore, after 7 pm jackets are necessary for men and dresses for women. This mandatory attire might seem silly for a sports bettor, but just because The Casino Club now offers sports betting doesn't mean they have to sacrifice their sophisticated reputation.
Who runs sports betting at The Casino Club?
Running a sportsbook can be quite a difficult operation. Especially, since the lifting of the PASPA ban by the Supreme Court has brought about a lot of changes across the United States and many brands in different states are scrambling their expansion into the sports betting market. The Casino Club Sportsbook at the Greenbrier Resort and Casino in West Virginia is no exception. To make their sports betting dream happen, the Casino Club has partnered with the FanDuel Sportsbook (the same company that offers a top DFS platform, FanDuel Fantasy) to bring this new form of entertainment to WV.
This was a big announcement! The Casino Club is now backed by one of the biggest emerging sports betting operators in the United States. You can find more information about this sportsbook partnership by reading their press release.
Here are the services at the Casino Club Sportsbook:
The Casino Club Amenities
In-person sports betting
21 Televisions to watch games & matches
37 Table games for casino
320 Slot machines
Horse & dog simulcast racing betting
International cuisine
The Greenbrier, as America's only privately owned resort, has a lot of control of the experience they offer. And the experience they offer is quite incredible. Admittedly, it's a high-class experience and might not be for everyone. But if you've ever wanted to feel like James Bond in Casino Royale, going over to the Casino Club is a good place to start. You can choose to play casino games or bet on sports at the new Greenbrier Sportsbook.
Greenbrier Sports Betting
Making sure that your customers are satisfied requires a lot of hard work on the bookies part. The point is to provide people with variety. The more sports people can bet on, the better. It is simply much more entertaining to be able to bet on different types of sports. It also opens up much more events per sport and leaves more options for sports fans to make more interesting wagers with their friends.
Types of sports bets at The Casino Club Sportsbook at the Greenbrier:
Moneyline
Over-under
Parlay
Round Robins
Spread
Futures
In-game betting
The Casino Club sports betting on mobile
With The Casino Club's expert sportsbook partner, they will surely provide great service online and on mobile. WV online sports betting is now legal. This means that you can simply download the FanDuel Sportsbook app before you even get to the Casino Club to bet on sports early. If it's a crowded day, or peak season for resort-goers, you can beat the lines and place your bets online. Since both sports betting mediums are powered by FanDuel, you should be able to get the same lines and bet-types no matter if you're at a betting window or on your phone.
Greenbrier Sports Betting Customer Support
One of the best perks on retail sportsbooks is the ability to talk to an expert about your betting questions. You're welcome to walk right up to a staff member an ask about a bet or see what they think of a line. Consistent with Greenbrier's service-minded reputation, the staff members will be happy to help solve any sports betting issue, or any other issue for that matter as quickly as they can so you can have a comfortable stay!
Greenbrier Payment Methods
This is quite simple, the more payment methods there are the better. Different customers rely on different payment methods, especially if we talk about online payments. This is why it is necessary for the brand to offer as many options as possible, just to make it easier for different types of customer to make deposits and withdrawals.As you can see, a Greenbrier Bonus Code might be a great way of attracting new customers staying at the resort. We will have to wait and see whether the brand decides to use one. Rest assured that as soon as we find it, it's getting published right here in our review.