On-site sportsbooks are now in New York – the del Lago Casino NY in Seneca County officially is one of the first resorts in the state to welcome new sports betting customers.
The New York State Gaming Commission has unanimously approved new rules that will allow all eleven of the state's commercial and tribal casinos to apply for licenses that will allow them to run on-site sportsbooks.
The del Lago Resort & Casino signed a deal with DraftKings, bringing sports betting to New York.
In this sports betting review, we will be looking at the state of play at the moment, what you can expect from this deal between del Lago and DraftKings – and what the future holds for sports betting in New York overall.
Jump to
Del Lago Resort & Casino
The del Lago Resort & Casino is located in Tyre, NY – just north of Waterloo – and was opened in 2017 at a cost of $440 million. One of the biggest in the Empire State, del Lago Casino NY is home to almost 2,000 slot machines, 85 traditional game tables, and 14 poker tables.
Facilities include nine restaurants and bars, a spa and shops. There is also a popular entertainment venue that can hold almost 2,500 people. The hotel part of the casino has 205 rooms and is very popular with guests.
The brand new on-site sportsbook has recently been revealed and will help the Casino lead the way when it comes to sports betting in New York.
Del Lago Sports Betting
Del Lago Casino and DraftKings Sportsbook entered into an agreement that would see the two ventures work together towards opening an on-site sportsbook at the resort. This kind of collaboration will be key to any success.
SPORTSBOOK HOURS
BAR:
Monday-Friday: 11AM-2AM
Saturday: 11AM-3AM | Sunday: 9AM-2AM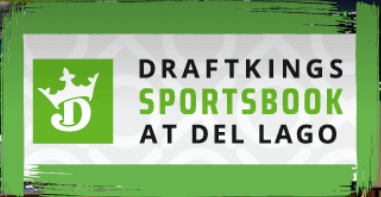 RESTAURANT:
Monday-Thursday: 11AM-12AM
Friday – Saturday: 11AM-2AM
Sunday: 9AM-12AM
Other casinos may as well follow suit and use the experience. The technical abilities of the existing sports betting companies will help them lead the way in the market.
The NY based casino has opened a 6,000 square foot sportsbook that has all the latest, up-to-date technology ensuring that its customers enjoy some of the best experiences in sports betting in New York.
The sportsbook plans incorporate a huge selection of high definition screens for bettors. It also includes 20 self-service betting kiosks that will make it even easier for customers to make their picks.
Del Lago Betting Markets
With the building completed in 2019, the del Lago Resort & Casino sportsbook lounge is now open.
But it is not just football that customers will be able to bet on.
Although betting on college sports including schools from the state are currently prohibited, there will be a wide variety of other del Lago Casino betting markets to choose from.
All the main US sports and leagues are covered, including NBA, NHL, and MLB. Other popular betting sports such as tennis and golf are also available. These will be particularly busy markets whenever there is a big event going on.
Betting on soccer is also thought to be big business for sports betting in New York. The success of the USWNT and the popularity of the game in the country right now means that there should be betting markets covering some of the best leagues in the world.
Soccer betting is huge in other countries and it is likely that this will be replicated at on-site sportsbook betting hits in New York.
Del Lago Online Sports Betting
There are no current plans to launch an online version of the new on-site sportsbook. Betting on sports online is still not fully legalized in New York.
However, this is probably still part of the plans put together by del Lago Casino and DraftKings. Keep a close look at our review, as we will regularly update it with the latest information.
When online sports betting starts in New York, operators like del Lago will be perfectly placed to offer the same kind of service they do to visitors to their new online customers.
This kind of online sportsbook will open up their business to a whole new group of people who may not have been able to get to the land-based casino previously.
If the new laws are like in other regions, customers will not be required to be residents of the state but just be within its borders at the time of the bet.
This is how it works in neighboring New Jersey and is the reason why online sportsbooks get a lot of business from New York state residents.
Del Lago Casino Betting Mobile
Mobile betting gives customers even more freedom than just online as it allows them to make their selections wherever they are and whenever they want to. But this will not come into place before the regulations surrounding online sites are agreed upon.
The mobile version will likely be a big hit with bettors who like the full range of betting markets at their fingertips. But for now, sports betting in New York looks like being a wholly land-based experience.
The legislative session for New York ended in the middle of June so betting fans in the state will have to wait a little longer until they are able to bet mobile. But once this passes the vote in the State Assembly a del Lago sports betting app is sure to be launched.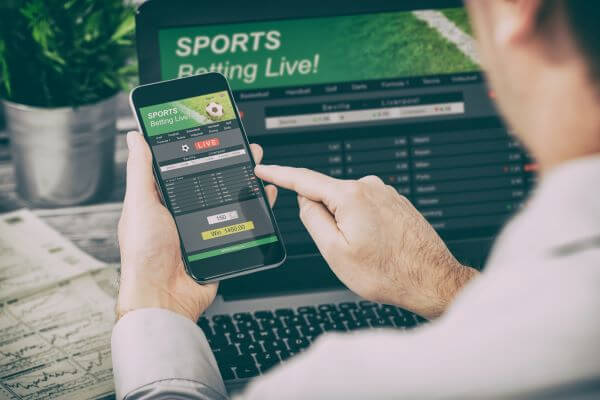 Customer Support
Whether it is land-based sportsbook betting – or at a future online site – there is sure to be a good customer support team on hand to help solve any issues that visitors will have.
Sports betting has only just become legal in New York so there is bound to be a period of time in which customers are finding their way around the markets, odds, and process of betting.
Sportsbook operators want their customers to be happy and confident in their abilities so it is the view of this del Lago sports betting review that any new venture will have customer support and help teams at the top of its priorities.
Payment Options
With the new del Lago Casino and DraftKings venture, there will be a number of casino cages where money may be transferred into betting accounts – as well the self-service kiosks that we mentioned earlier in this del Lago sports betting review.
Once any online or mobile sportsbook gets the green light it is possible that del Lago will welcome a number of payment methods – debit and credit cards, e-wallets and bank transfers – to deposit and withdraw funds from customer accounts.
This will be in addition to the cash cages at the land-based casino.
Final Verdict
The news that sports betting in New York is now LIVE is going to be an exciting move for everyone involved.
Although there is no news as of yet about an online operation, the del Lago Casino and DraftKings agreement should provide for a state of the art land-based sportsbook.
Hopefully, this review has answered some of the questions you may have about sports betting, what to expect – and what will happen next.
There are bound to be further updates over the coming months, so keep checking to make sure you don't miss anything.