Army-Navy Betting
Commercial Content | 21+ | T&Cs Apply
As the college football season moves forward, the 120th battle between the Army Black Knights and Navy Midshipmenis set to kick off December 14th. Think of this game like Super Bowl betting, but for the NCAAf season. Excitement among fans of Army-Navy betting is more rampant than ever. And why wouldn't it be? Army's on a winning streak and the stage is set for another showdown in Philly.
Contents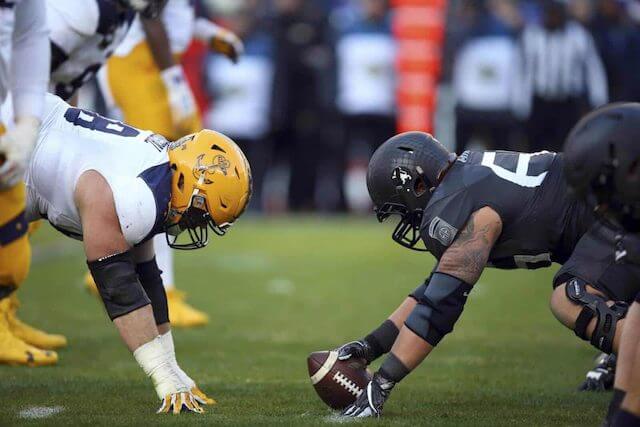 Army-Navy Betting Odds
The odds are in favor of Army at -7.
46.5 under points are set against for bettors.
The game will be televised on the official CBS network.
It may not be the NCAAf finale, but the Army-Navy match is one of the highest watched games of the season. Furthermore, fans are more fixated on Army defending a three-game streak against Navy, who once had a 14-straight winning streak.
The momentum, undoubtedly, is on the side of the Army. Therefore, expect another close win from Black Knights. The fact is, Army realized their full potential last season that led to ranking 19th and getting double-digit wins.
As of now, Army is said to implement a revised offense strategy that could be game-changing.
Army vs Navy Predictions
Statistically, the Black Knights may not have a great score, but it shows their willingness and perseverance to strive for perfection. Navy football odds, on the other hand, haven't been on the right track since the last two seasons.
Analysts' Army vs Navy prediction, nonetheless, has resulted in favorite odds. That's because they've learned to separate emotion and realistic expectations.
Army Black Knights Football Odds
Before last season, the Black Knights hadn't ranked among the top 25 since 1996. Army's winning streak is a big deal because of the lethal offense strategy of Hopkins who can throw and run like a lightning bolt.
Like last season's three games against Navy – Army is counting on rebuilding the defense to smother its offense control. As for Army-Navy betting, It is vital to note that the despite undersized defense, Army managed gained 16 points each game giving up 295 yards. Black Knights clearly seem to be a safe bet for now.
Whatever the full game total may turn out to be, the Black Knights will have to act fast against the run defense of the Navy. For the first 30 minutes, the Army is expected to take the lead. However, they need to be cautious about not giving too much yard points per game.
Navy Midshipmen Football Odds
The demoralized Navy football team has spiraled to another path after a disappointing season last year. It was, after all, their worst finish in 2002. Look no further than the 2-point close second losses of Midshipmen last year with SMU (30-31) and Tulane (28-29) to resolve your predicament. However, the outlook of the Navy Midshipmen looks comparatively better than last year.
The Winning Streak
As of now, Navy still holds the record for the longest winning streak of 14 games in a row against Army. Ironically, Army may have broken the losing streak back in 2001 with a 21-17 victory, but Navy may just reverse the chips back on Army.
It is easy to let things slide and get dilemmatic when it comes to Navy football odds. That's precisely why the Army-Navy betting line will help bettors root for the underdog.
Navy scored a reasonable 325 offense points and finished 3-10, 2-6 against Army last season. It is probable that the Navy won't be making the same minor and injury mistakes. Besides, Navy is not counting on a rough weather condition to win against Army.
Over the years, Navy's steadiness against Army is not the same as when they face the Air Force. Getting rid of their losing streak isn't going to be a walk in the park for Navy, but the Army-Navy betting line raises a good possibility of an 8-4 finish for Navy.
Offensive Strategy
As a matter of fact, a large chunk of responsibility lies solely on the shoulders of Navy's quarterback, Malcolm Perry. That said, the role of a quarterback is now somewhat limited to passing plays. Perry, on the other hand, is arguably one of the most talented athletes the Navy team has ever had.
Defensive Strategy
But can he strategize the offense strategy that could counteract against the Army's defense? In addition, the current position breakdown of Navy football offensive line may just break everyone's expectations. It means they'll likely end up winning roughly eight games instead of just five.
Player Recognition
Navy, after all, is in a position to win ten games. Additionally, the numbers add up when you evaluate the D1 coordinative offensive strategy of the Navy line. Nelson Smith is another key player that showed agility throughout the last season as well. In fact, he may just dominate the game-play against.
Army-Navy Spread
When it comes to Army-Navy betting, the Army-Navy spread is predictable at -13.5 for the Midshipmen. It won't be easy, as the offense is still new and needs seasoning to make them more dangerous against the Knights.
While Army has already won three consecutive games and took advantage of every Navy injury, the Midshipmen can get their 14-streak mojo back in no time.
Then again, the Army-Navy game point spread was expected to peak before NFL preseason had even begun. Consequently, the Army-Navy spread data may change prior to the game. Ultimately, ensure that you are paying a nominal betting price on point spreads.
This is where things get tricky. Basically, the Army-Navy game point spread has 7 points of advantage in terms of betting, but historical statistical data says otherwise.
Bet on Army-Navy with PointsBet
This is a perfect spot if you've ever wondered how to bet on football with safety and care. You can either capitalize on favorites or go with underdogs.
PointsBet is considered one of the best legal sports betting company that provides unique product opportunities and betting experience. From promotional details to terms and conditions, it checks all the tick marks.
Apart from the great easy-to-use desktop version, the PointsBet app is hailed among industry professionals and the US sports betting market. Also, PointsBet refunds bad bets through the 'Karma Kommitte' feature and even compensates when the bettors prove wrongdoing.
Army-Navy Wagers with SugarHouse
SugarHouse is ideal if your natural instincts merge with calculative risk assessment. Unlike other ordinary sports betting hub, you can avail an extensive range of sports bets. You can set up a live betting system or make the most out of their daily special sections that change depending on the football odds of a game.
With SugarHouse, you don't have to worry too much about how to read odds or read between the lines every second of the game. Instead, fractional and decimal odds are visualized and integrated with bold highlights to make the picking and readability easier for bettors.
The sportsbook can provide interested bettors with fresh sports betting updates. A safe bet, after all, is the best bet. Reach out now for more simplified bonus and promo options.
Army-Navy Over/Under Betting Odds
In terms of Army-Navy betting, both have gone under 32-8-1 in numerous games amounting to almost 55% of return on investment. It is quite extraordinary when you look at an average of 7.72 points per game. For the past three games, under is maintained at a stable ratio.
Whether it's the standard or passing downs, the Army has one of the best run rate history than even Navy. But will the familiar offense technique continue to baffle the audience or not? And more importantly, which team will be able to stop the triple-option run?
It is not just that both of the teams have managed to rank among the top 15 for a near-decade, but both of the teams root for kicking a field goal every single year.
Are you rooting for the underdog? A case for Black Knights would depend on their willingness to stick to the prior gameplan. What makes the clash between the two interesting is how their overall performance throughout the tournament may differ from their planned game-play towards each other.
Navy, on the other hand, is more inclined to make big offense plays on the ground. In order to pull off an upset, the Navy will need to adopt consistency throughout the game. This is one of the many reasons why the Army vs Navy football game is exhilarating to watch every year.
Relevant Numbers & Trending Topics
Army relies on the tempo and clock, which is significant since they constantly take advantage of the third downs to control the game. Furthermore, the running game of the Knights is incredibly accurate at an average of 303 yards per game.
Your Army vs Navy pick should be based on data and cautious risk assessment. From 57% conversion to 39:15 ball holding ratio; Army's fresh defense mechanism is something Navy needs to watch out
For the sake of better gameplay, the Navy can flip the coin again if they focus on big passes. However, those passes don't need to turn into penalties. Little things matter and that's where Navy needs to outshine Army to win the game.
The question is: can Navy make the most out of touchdowns within 250 yards? The Navy had a disastrous season last year because it failed to implement a defense strategy.
Statistically Army fairs better than Navy as it is at the bottom of the FBS conversions. The total points for the Army's defense amounts to over a 27% conversion. And that's a vital Army-Navy betting figure.
The extra 30-yard red-zone penalty points is another conundrum Navy will have to resolve. However, their 10-yard succession line surprisingly ranks at 6th. But the cherry on the top may just turn out to be Army's higher rushing yards per game than Navy's (303-288.9).
Naturally, parlay lovers want to cash out on the longest touchdown. This is a key moment for Army-Navy betting as bettors often get stuck in the weeds with low key points. So, who will keep the clock ticking while avoiding lower score points?
That said, it would be a real test for the Army to cover the spread against the Navy's great rushing opponents. In hindsight, it may just be the deciding factor for Army-Navy betting.
Importance of Army vs Navy Game History
The rivalry between the Black Knights and Midshipmen began back in 1890. At that first game, Army won 32-16. However, the teams wouldn't face each other for almost another decade. From 1899 to 1927, Army and Navy played more than 30 times together, even during World War II.
When it comes to winning streaks, both teams have a strong claim. However, Navy's 14 consecutive game streak between 2002 and 2015 is the all-time highest. However, the Black Knights eventually put a stop to the longest winning streak in history.
That said, in recent years Army has taken a thrilling 14-13 win. And last year's 17-10 win was even bigger. Since then, Army vs Navy prediction has been the subject of heated debates and never-ending analytical insights.
A Tricky History Makes Betting Difficult
Unlike other seasons, you won't find the upcoming December Army-Navy betting to be ordinary. Instead, both Army and Navy have shown courage under immense pressure. It is important to understand that these teams have played under ten (10) consecutively, which means going over 40 points on all three times.
Historically, the offense option of both teams has been a strong suit. Consequently, it means more time barrier to score points. To score a big lead, however, is arguably improbable at this point.
Navy football odds relatively make a better cut in terms of the historical record, but the Army has attuned itself like an underdog that could cover almost any aspect of the game now.
Black Knights previously managed to cover four straight wins and thereafter even won seven out of total nine games. As aforementioned, look for the total winning games around eight out of ten for Navy. That makes Army vs Navy pick at a fine +7.
Streaming Options – Watch the Army-Navy Game
CBS Sports will be the official broadcaster of the match. Therefore, you can watch the match on your big television so long as you've got access to the channel. You can, of course, enjoy the game via online streaming.
It is a perfect option for folks who don't want to give up the comfort of their couch. Furthermore, you can stream the match through CBS Sports dedicated app and watch it on your mobile device.
If you are stationed outside of the U.S, just go through the Armed Forces Network (AFN) on your base to witness the live action between the two rivals.
Although the first half of the Army-Navy betting game would be the most decisive, ultimately, there are bound to be a struggle on both sides. The Army snapping the losing streak has certainly turned the tables around. However, the uncertainty of how it will play out remains to be seen. Before you bet, make sure you know how to read football odds and parlays, and the best sportsbooks to bet with.