Navy defeated Army 17-13 in an unexpected upset, with Army being as high as 7.5 point favorites. Once available, we will update our content for the Army/Navy game in 2022.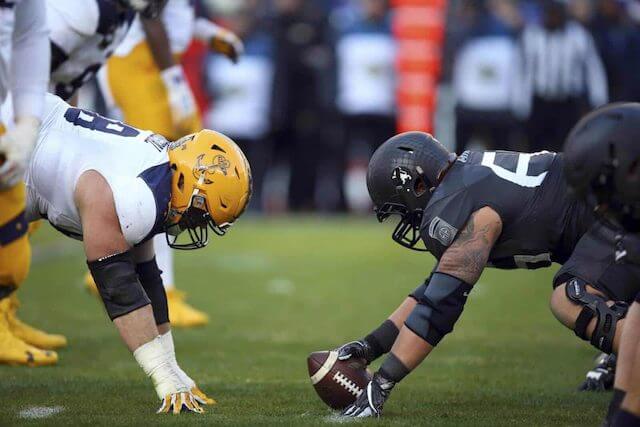 The 122nd meeting between Army and Navy took place on December 11, 2021, at MetLife Stadium in New Jersey. This is one of the longest rivalries in the history of college football, and it is a game that draws national attention.
The Secretary's Trophy is handed out to the winner of this matchup, and it is the final game in the battle for the Commander-in-Chief's Trophy. This game has been shown on national television every year since 1945, and it is a game that dates all the way back to 1890.
While the actual game draws plenty of betting attraction, it is the circumstances surrounding this game that make it unique.
Jump to
Army/Navy Game 2021
Even though the Army/Navy game is a week away, it's never too early to take a close look at how these two teams match up. Army is currently the betting favorite for this matchup, and they are giving as many as seven points in some cases.
The Black Knights enter the game with a record of 8-3, having won their last four games. Army suffered a close loss at Wake Forest on October 23, and that might have been their most impressive performance of the season.
Navy enters December with a record of just 3-8, and the Midshipmen have actually gone just 1-5 at home this season. Playing in the American Athletic Conference has not treated Navy well as there are some great teams in that league.
Both teams are going to run the football a ton, and it should be another low-scoring game that is won on the defensive side of the ball. Even though Navy has been the better overall team in this rivalry, Army is having the better season.
Army/Navy Predictions
The Midshipmen have dominated this rivalry over the last two decades, but Army are 4-1 over the last 5 seasons and should be the betting favorites this year. The fact that this game will be played at a neutral site, MetLife Stadium, will play a role in the outcome as well.
Army has been the better team this season, and that defense is hard to ignore. The Black Knights will be ready for this game, and they will make it two in a row against the Midshipmen.
Expect another close matchup, but taking Army to win this game outright over Navy is the right pick.
Offense:
Both teams in this matchup want to run the football, and that could lead to a low-scoring affair. This is usually the strategy that each team takes each season, and the team that is able to stop the run the best will likely be the winner.
Army is averaging 301 rushing yards per game, and it very rarely throws the football. Quarterback Christian Anderson leads the team in passing and rushing yards. The dual-threat QB offers a unique challenge for the Midshipmen defense.
Navy wants to run the football, but the Midshipmen are averaging just 228 rushing yards per game. Navy's entire offense has struggled for much of the season, but it can be a tough team to stop if it gets the run game going.
Fullback Isaac Ruoss leads the team with 608 rushing yards and five touchdowns. Navy has especially struggled getting yards through the air, as they are averaging only 54 passing yards per game. Look for the Midshipmen to try and find some offensive balance in this game.
Defense:
While both teams are very similar offensively, there is a pretty large gap between each defensive unit in this game. Both defenses are helped by offenses that run the football and chew up clock, but it is Army that has the stronger defense.
Army is allowing 23 points per game this season, and that defense has faced some explosive offenses. The Black Knights are solid up front, and that should play a huge role in stopping the running attack in this one.
Navy is giving up 30 points per game, and its secondary has been a mess at times. The Midshipmen won't have to worry about that much in this game, but there are still some question marks on that side of the football.
Importance of Army/Navy Game History
The Navy Midshipmen won the first-ever matchup between these teams, coming away with a 24-0 victory back in 1890. It was Army that won the most recent matchup as the Black Knights picked up a 15-0 win a season ago.
Navy has gotten the better of Army in the all-time series as the Midshipmen have posted a record of 61-53-7. This game has often been played in front of the United States president, and both branches of the armed forces are in attendance for the rivalry.
The largest victory in this matchup came back in 1973 as Navy roared out to a 51-0 win. Navy also holds the longest winning streak in this matchup as they won 14 straight games from 2002-2015.
Make a Bet Slip
Now that you have studied the odds and betting trends for this classic matchup, the next step will be finding a place to make a wager. The regulated sports betting industry is growing in a hurry, which means that you now have more options to place your bets.
The first thing that you need to do is to choose a sportsbook. There are a number of great options in the United States, including BetMGM Sports and PointsBet. Both of these online sportsbooks will have several betting options on the Army/Navy game.
After choosing a sportsbook, you must first create a new account and make a deposit. Each sportsbook will require some general personal information so that your identity can be verified. Most sportsbooks will also have some bonuses or promotions available to give your account an extra boost.
After making your deposit, you will next be looking for the Army/Navy game in the college football section of the sportsbook. Again, there will be a long list of options available, and you can choose which bets you are willing and wanting to make.
You will then select the bet or bets that you want to make, and those wagers will be added to your bet slip. Simply choose a wager amount, click "submit," and you have successfully made a wager on the 2021 Army/Navy football game.
Relevant Numbers & Trending Topics
Army relies on the tempo and clock, which is significant since they constantly take advantage of the third downs to control the game. Furthermore, the running game of the Knights is incredibly accurate at an average of 286 yards per game.
Your Army vs Navy pick should be based on data and cautious risk assessment. From 57% conversion to 39:15 ball holding ratio; Army's fresh defense mechanism is something Navy needs to watch out for.
For the sake of better gameplay, the Navy can flip the coin again if they focus on big passes. However, those passes don't need to turn into penalties. Little things matter and that's where Navy needs to outshine Army to win the game.
The question is: can Navy make the most out of touchdowns within 250 yards? The Navy had a disastrous season last year because it failed to implement a defense strategy.
Statistically Army fairs better than Navy as it is at the bottom of the FBS conversions. The total points for the Army's defense amounts to over a 27% conversion. And that's a vital Army-Navy betting figure.
The extra 30-yard red-zone penalty points is another conundrum Navy will have to resolve. However, their 10-yard succession line surprisingly ranks at 6th. But the cherry on the top may just turn out to be Army's higher rushing yards per game than Navy's (303-288.9).
Naturally, parlay lovers want to cash out on the longest touchdown. This is a key moment for Army-Navy betting as bettors often get stuck in the weeds with low key points. So, who will keep the clock ticking while avoiding lower score points?