The annual Army/Navy game is always one of the biggest and most exciting college football games of the year. Last year, Army beat Navy 15-0 and has now won four out of their last five encounters.
It's much too early to predict Army Navy betting in 2021, but read this to see what our predictions were before the game last year.
---
This will be the 121st meeting between the two programs, and this game always has an entire nation watching some of our heroes battle it out on the football field.
For this game, Navy will be celebrating 175 years while Army will be honoring the 25th Infantry Division. This game will have limited in-person attendance, which will take away some of the pageantry and traditional feel.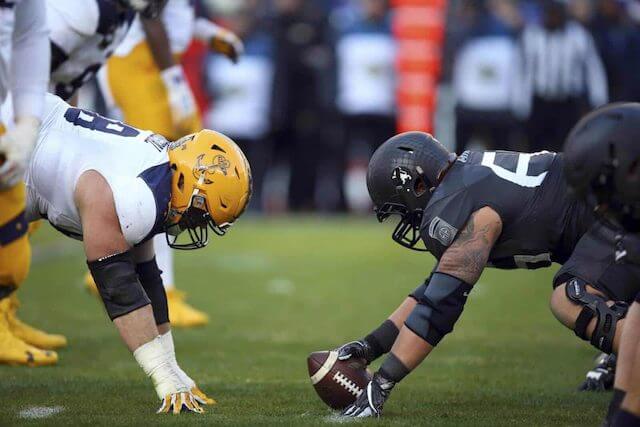 Jump to
This game is traditionally played in Philadelphia each year, but it has been moved to West Point to accommodate more fans. This is the first time that the rivalry game has been played on a campus since 1943.
The game will be televised on CBS, and it will take place on Dec. 12 at 2:30 pm ET. While many other programs are traditionally wrapping up their regular seasons at this point of the season, Army/Navy save their biggest game for the end of the season.
Weather can always play a factor in this matchup as it will be played outdoors in the middle of December. Be sure to check out the weather forecast before making any picks to see what impact that could have on this matchup.
Army/Navy Game 2020
The first thing to look at when trying to make Army/Navy prediction is the overall history of this rivalry. Navy leads the all-time series 61-52, including a 31-7 victory a season ago.
Since 2002, Army has won this game just twice, with the wins coming in 2017 and 2018. Navy has been much more dominant over Army in the past two decades, and the Midshipmen will be looking to continue that dominance in 2020.
These aren't two of the best college football programs in the country, but this still should be a terrific battle between two evenly matched teams. Learn how to read football odds and wager on such a game.
Army/Navy Odds
These odds are from BetMGM, bet real-money on them by clicking the odds (select states only).
This classic matchup currently has the Navy Midshipmen as 4.5-point favorites over the Army Black Knights even though they are the road team.
Army enters Week 14 with a 7-2 record on the season, and the Black Knights will be off until their matchup with Navy. Army still has a matchup with Air Force on the schedule this season, with that game set to take place on Dec. 19.
Navy enters Week 15 with a 3-6 record, and the Midshipmen have lost four straight games. Navy fell 19-6 to Tulsa in its most recent contest.
Despite a worse record, Navy is still the clear betting favorite in this game. The fact that Navy has dominated this rivalry of late has surely affected the odds and swung them in their favor.
Army/Navy Predictions
Offense:
Both teams in this matchup want to run the football, and that could lead to a low-scoring affair. This is usually the strategy that each team takes each season, and the team that is able to stop the run the best will likely be the winner.
Army is averaging nearly 300 rushing yards per game, and it very rarely throws the football. Jakobi Buchanan leads the team with 383 rushing yards, but the Black Knights will use a number of different players to run the football.
Quarterback Christian Anderson has thrown for just 158 yards and one touchdown, and he usually only throws the ball on trick plays. This will allow the Navy defense to gear up to stop the run, and Army might have to take a shot at some point in this game.
Navy wants to run the football as well, but the Midshipmen are averaging just 192 rushing yards per game. Navy's entire offense has struggled for much of the season, but it can be a tough team to stop if it gets the run game going.
Fullback Nelson Smith leads the team with 589 rushing yards and eight touchdowns. Navy is able to get some yards through the air as it is averaging more than 117 passing yards. Look for the Midshipmen to try and find some offensive balance in this game.
Defense:
While both teams are very similar offensively, there is a pretty large gap between each defensive unit in this game. Both defenses are helped by offenses that run the football and chew up clock, but it is Army that has the stronger defense.
Army is allowing just 16.3 points per game this season, and that defense has faced some explosive offenses. The Black Knights are solid up front, and that should play a huge role in stopping the running attack in this one.
Navy is giving up more than 33 points per game, and its secondary has been a mess at times. The Midshipmen won't have to worry about that much in this game, but there are still some question marks on that side of the football.
Army/Navy Prediction
The Midshipmen have dominated this rivalry over the last two decades, but that run is going to come to an end on Dec. 12. The fact that this game will be played on the campus at West Point will play a role in the outcome as well.
Army has been the better team this season, and that defense is hard to ignore. The Black Knights will be ready for this game, and they will start to turn things around in this rivalry.
Expect another close matchup, but taking Army to win this game outright over Navy is the right pick.
Importance of Army/Navy Game History
The rivalry between the Black Knights and Midshipmen began back in 1890. At that first game, Army won 32-16. However, the teams wouldn't face each other for almost another decade. From 1899 to 1927, Army and Navy played more than 30 times together, even during World War II.
When it comes to winning streaks, both teams have a strong claim. However, Navy's 14 consecutive game streak between 2002 and 2015 is the all-time highest. However, the Black Knights eventually put a stop to the longest winning streak in history.
That said, in recent years Army has taken a thrilling 14-13 win. And 2018's 17-10 win was even bigger. Since then, Army vs Navy prediction has been the subject of heated debates and never-ending analytical insights.
A Tricky History Makes Betting Difficult
Unlike other seasons, you won't find the upcoming December Army-Navy betting to be ordinary. Instead, both Army and Navy have shown courage under immense pressure. It is important to understand that these teams have played under ten (10) consecutively, which means going over 40 points on all three times.
Historically, the offense option of both teams has been a strong suit. Consequently, it means more time barrier to score points. To score a big lead, however, is arguably improbable at this point.
Navy football odds relatively make a better cut in terms of the historical record, but the Army has attuned itself like an underdog that could cover almost any aspect of the game now.
Black Knights previously managed to cover four straight wins and thereafter even won seven out of total nine games. As aforementioned, look for the total winning games around eight out of ten for Navy. That makes Army vs Navy pick at a fine +7.
Make a Bet Slip
Now that you have studied the odds and betting trends for this classic matchup, the next step will be finding a place to make a wager. The regulated sports betting industry is growing in a hurry, which means that you now have more options to place your bets.
The first thing that you need to do is to choose a sportsbook. There are a number of great options in the United States, including BetMGM Sports and PointsBet. Both of these online sportsbooks will have several betting options on the Army/Navy game.
After choosing a sportsbook, you must first create a new account and make a deposit. Each sportsbook will require some general personal information so that your identity can be verified. Most sportsbooks will also have some bonuses or promotions available to give your account an extra boost.
After making your deposit, you will next be looking for the Army/Navy game in the college football section of the sportsbook. Again, there will be a long list of options available, and you can choose which bets you are willing and wanting to make.
You will then select the bet or bets that you want to make, and those wagers will be added to your bet slip. Simply choose a wager amount, click "submit," and you have successfully made a wager on the 2020 Army/Navy football game.
Relevant Numbers & Trending Topics
Army relies on the tempo and clock, which is significant since they constantly take advantage of the third downs to control the game. Furthermore, the running game of the Knights is incredibly accurate at an average of 303 yards per game.
Your Army vs Navy pick should be based on data and cautious risk assessment. From 57% conversion to 39:15 ball holding ratio; Army's fresh defense mechanism is something Navy needs to watch out
For the sake of better gameplay, the Navy can flip the coin again if they focus on big passes. However, those passes don't need to turn into penalties. Little things matter and that's where Navy needs to outshine Army to win the game.
The question is: can Navy make the most out of touchdowns within 250 yards? The Navy had a disastrous season last year because it failed to implement a defense strategy.
Statistically Army fairs better than Navy as it is at the bottom of the FBS conversions. The total points for the Army's defense amounts to over a 27% conversion. And that's a vital Army-Navy betting figure.
The extra 30-yard red-zone penalty points is another conundrum Navy will have to resolve. However, their 10-yard succession line surprisingly ranks at 6th. But the cherry on the top may just turn out to be Army's higher rushing yards per game than Navy's (303-288.9).
Naturally, parlay lovers want to cash out on the longest touchdown. This is a key moment for Army-Navy betting as bettors often get stuck in the weeds with low key points. So, who will keep the clock ticking while avoiding lower score points?
That said, it would be a real test for the Army to cover the spread against the Navy's great rushing opponents. In hindsight, it may just be the deciding factor for Army-Navy betting.