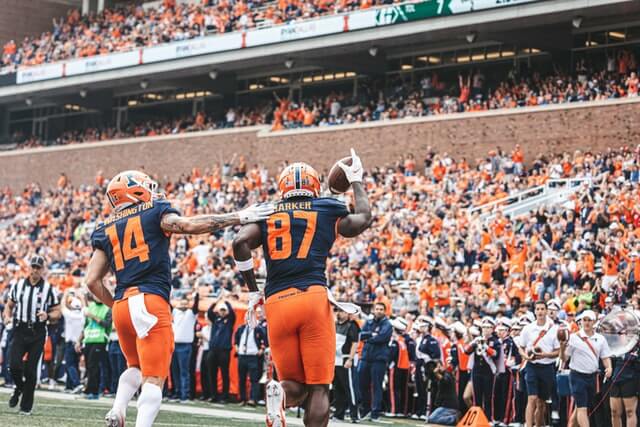 Derek Stevens has already made a name for himself in Las Vegas. As a casino owner and sports betting fanatic, he decided to add Circa Sports to his gaming empire. The result was the construction of the self-proclaimed largest sportsbook in the world.
Jump to
Circa Sports Las Vegas
As the main focal point of Circa Resort & Casino in downtown Las Vegas, Stevens built a three-story retail sportsbook and named it Circa Sports. Over the last few years, this has become a major tourist attraction even for area visitors with a casual interest in betting on sports.
The three-story sportsbook at Circa Resort & Casino offers the ultimate experience for betting on the games. A 40-foot tall massive viewing screen that is visible for miles across Las Vegas is the centerpiece of Stadium Swim. There are six different pools covering all three levels. The overall capacity is 4,000 people.
Circa Sports at Circa Resort & Casino is the main attraction. However, this is just one of five locations in the Las Vegas area. A few of the other properties include Golden Gate Hotel & Casino, The D Hotel & Casino, and Tuscany Suites & Casino. All three house a Circa Sports retail book.
Read about sports betting in more states
Circa Sports Expansion Into Illinois
Building on his success with Circa Sports in Nevada, Stevens has decided to venture further east. Earlier expansion plans brought the Circa Sports mobile sportsbook to Colorado and Iowa.
Through a new partnership with Full House Resorts, Circa Sports will be making its debut in Illinois. Part of the plans includes a retail sportsbook located in Waukegan as a northern suburb of Chicago.
The new Circa Sports retail book will be part of American Place as a new casino resort. The project is expected to take three years to complete. Pending regulatory approvals, The Temporary by American Place will offer casino gaming and sports betting as an interim facility as early as this fall.
Circa Sports and Full House Resorts have come together on an eight-year deal with two four-year extensions. Full House will receive an initial access fee of $5 million. The yearly revenue share is also set at $5 million once Circa Sports is up and running in the state.
The big twist in this agreement is the launch of a Circa Sports mobile sports betting app in the state. Revenue from mobile sports betting has been factored into the annual revenue share.
Dan Lee is the CEO of Full House Resorts. His comments on the new partnership included:
"For anyone who has seen the beautiful three-story sportsbook at Circa in downtown Las Vegas, I'm looking forward to having the best sportsbook in the Midwest."
American Place will be Circa Sports' first retail sportsbook outside of Nevada. The company's operations in Colorado and Iowa are only online through the mobile Circa Sports mobile app.
Lee went on to point out that Circa Casino & Resort has been the most successful new casino launch in Las Vegas since The Wynn opened in 2004. He also made note of Stadium Swim as an incredible success on its own.
In partnering with Full House Resorts, the same focus on sports betting should offer wide-scale appeal to Chicago-area sports fans.