Charles Town Sportsbook is now open at the Hollywood Casino in West Virginia.
Hollywood Casino already established itself as a trustworthy brand and there is a long horse racing tradition in Charles Town. This makes us very excited to visit the Sportsbook at Charles Town!
| Charles Town Sportsbook | View House Rules |
| --- | --- |
| Monday | 10 am – 1 am |
| Tuesday | 10 am – 12 am |
| Wednesday | 10 am – 12 am |
| Thursday | 10am – 1 am |
| Friday | 10am – 2 am |
| Saturday | 8 am – 2 am |
| Sunday | 8 am – 1 am |
| Location | 2nd floor, near Skybox Sports Bar |
| Address | 750 Hollywood Dr. / Charles Town, WV / 25414 |
| Last verified | December 2023 |
Visiting a sports bar is, of course, a nice experience. But did you know that you can legally bet on sports online already in WV? Open an account with BetMGM Sports today.
Jump to
Visit Charles Town Sportsbook at Hollywood Casino
Lounge seating that includes personal viewing stations
24 odds monitors
50 feet of walls with 80-inch television sets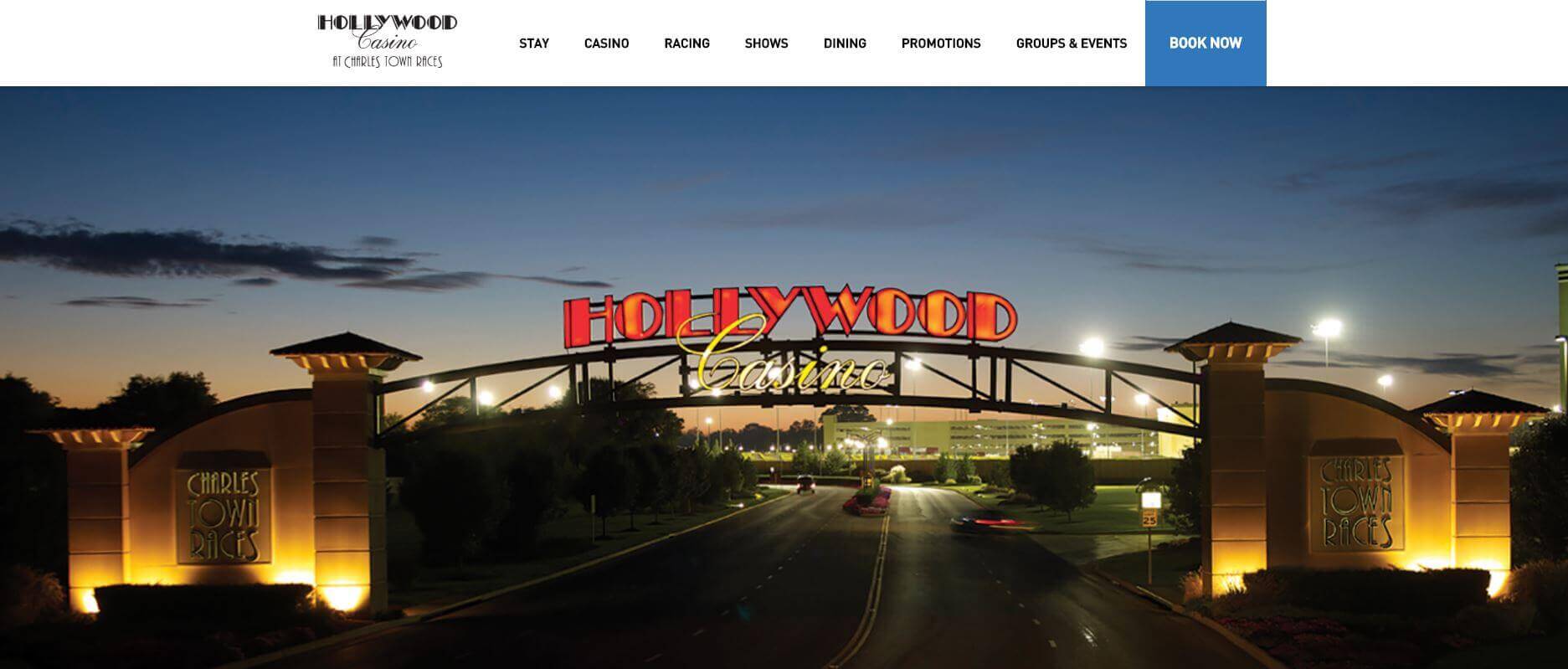 Bettors like to have a lot of flexibility when it comes to placing their bets on different sports. It is important for a bookie to provide the bettors with various sports games in order to keep them interested.
The Charles Town Races Sportsbook provides a wide range of games to its users – football, basketball, hockey, soccer, baseball, golf, tennis, auto racing, rugby, cycling, boxing and MMA, and cricket. These sports events can be sorted out into categories and leagues.
And of course, they offer competitive odds, point spreads, and over/unders to all its customers. Convert different odds types with our special online tool.
According to their page at Hollywood Casino, the sportsbook covers 50 feet of wall space with 80-inch TVs. There are also some individual viewing stations followed by lounge seating.
Bettors are able to place bets and watch sports games with their friends while they order food and beverages.
This sportsbook promises lots of good features to its players. But that is not all! Read the rest of our review to find out what else awaits you as their future customer.
Sports Betting in Hollywood Casino at Charles Town
Hollywood Casino is located in Charles Town, right near Harper's Ferry. This venue is providing its customers with many opportunities to play games and entertain themselves with additional services.
As for the casino games that are available, customers can play many variations of slots, poker, blackjack, roulette, craps, and other games.
When they get tired of gambling, there is always the Hollywood Event Center where they can rest and enjoy the cocktails.
It will be even more interesting when this bookie starts operating as part of Hollywood Casino.
Betting Online at Charles Town Sportsbook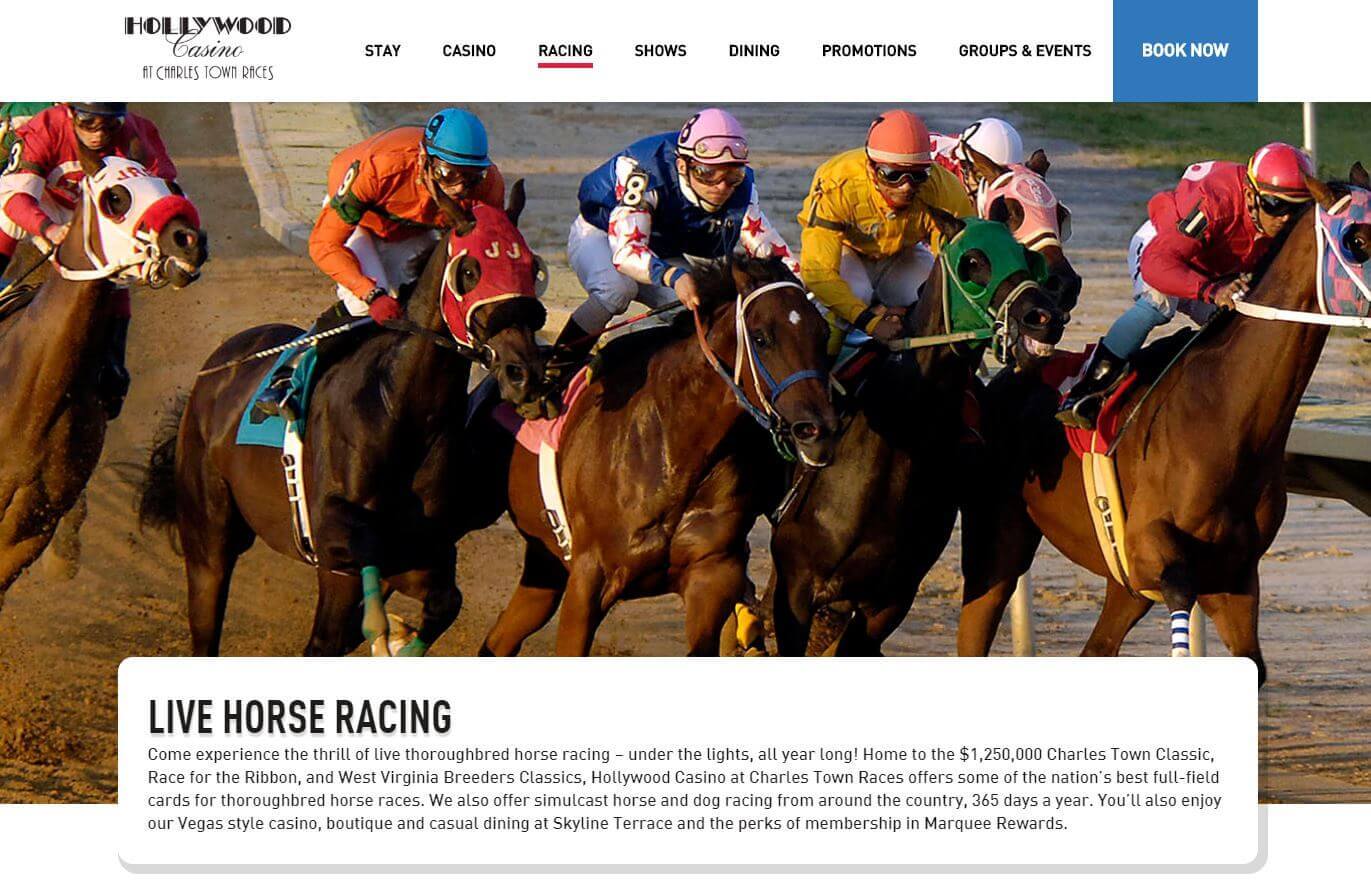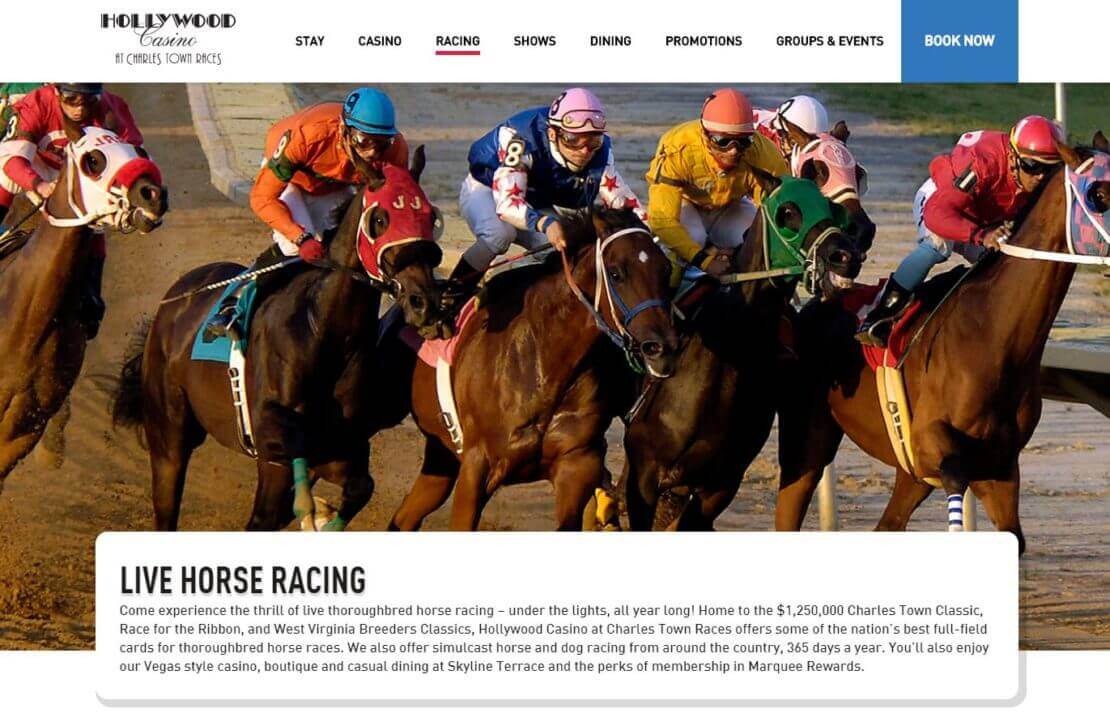 West Virginia has received its online sports betting license in 2018 and saw the launch of its first-ever sports betting app, BetLucky, now defunct.
This license allows sportsbooks, like the Charles Town Races Sportsbook, to launch their online bookmaking platforms. The Hollywood Casino at Charles Town has been tested a sports betting app, it is in partnership with DraftKings Sportsbook. This will give the opportunity to users in West Virginia to place bets online through their mobile devices.
Hollywood Casino Charles Town Sportsbook App
Betting via mobile devices is legal in West Virginia. With its partnership with DraftKings, the Charles Town Races Sportbook's online sports betting went live on August 28, 2019, with the DraftKings app.
To be able to download the app and open an account, users will have to fulfill the following requirements:
Be physically located in West Virginia and be 21 or older. A special geolocation verification system will be able to determine whether players who are using the app are in fact located within the state borders.
Some form of ID or social security number is required as well to verify one's identity.
Based on the experience of other states launching sports betting apps, you can probably expect a welcome bonus when you register with the Hollywood Casino Charles Town Sportsbook App, as well as ongoing promotions and offers.
Horse Race Betting at Charles Town
The horse racing has been popular at Hollywood Casino ever since 2009 when this track was introduced to its customers.
Considering the history of this horse racing track, we believe that one of the main focuses of the Charles Town Races Sportsbook might just be the horse racing games.
But we still need to wait and see how this bookie and its online betting platform will look like before we can make any more predictions.
Horse racing at Hollywood Casino offers its customers the opportunity to place bets on horse racing events that are taking place on this track, including The Charles Town Classic.
Users can learn more about this sport by reading the Horse Racing Information section on the Hollywood Casino website or watch replays of the horse racing events.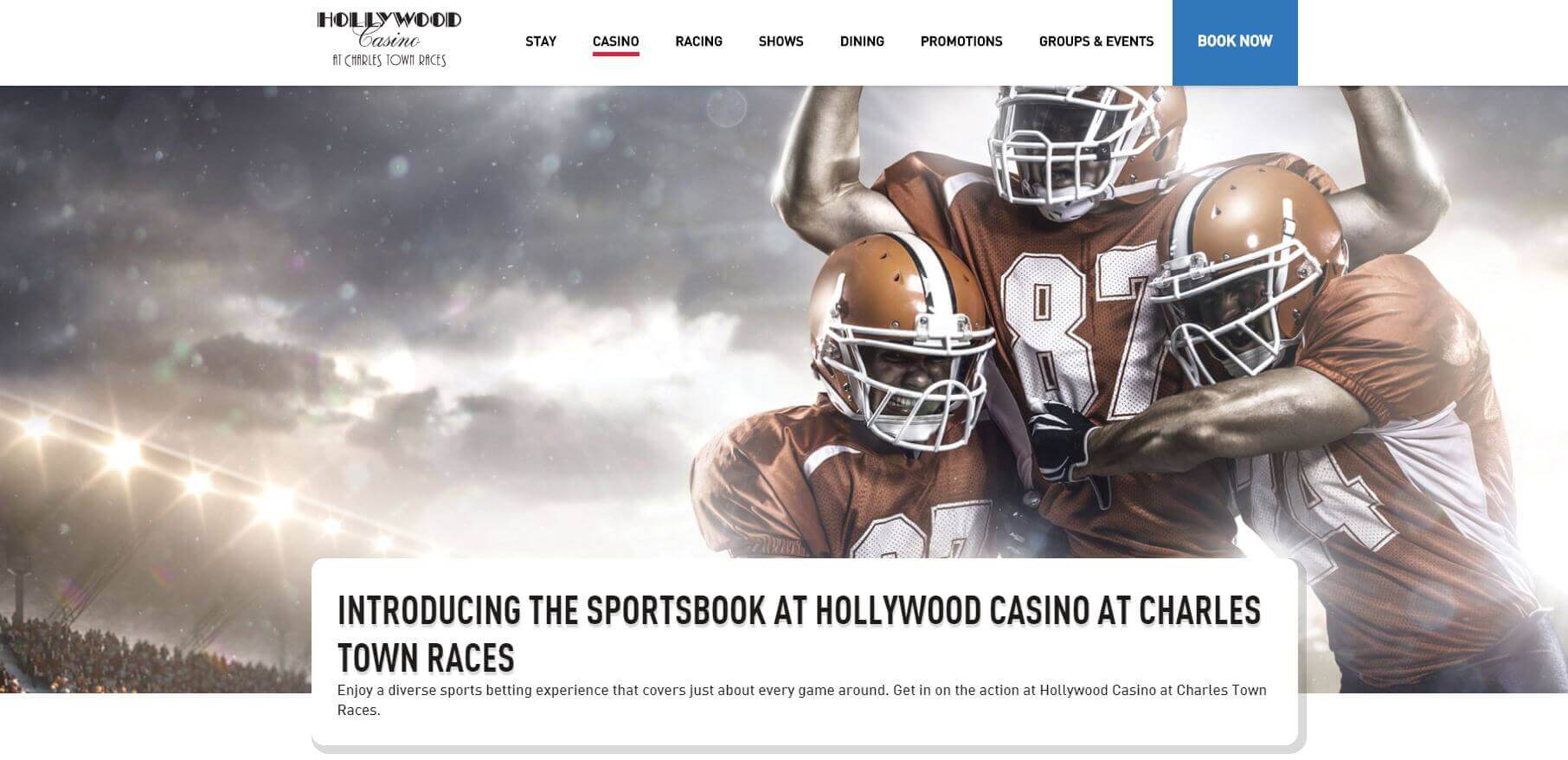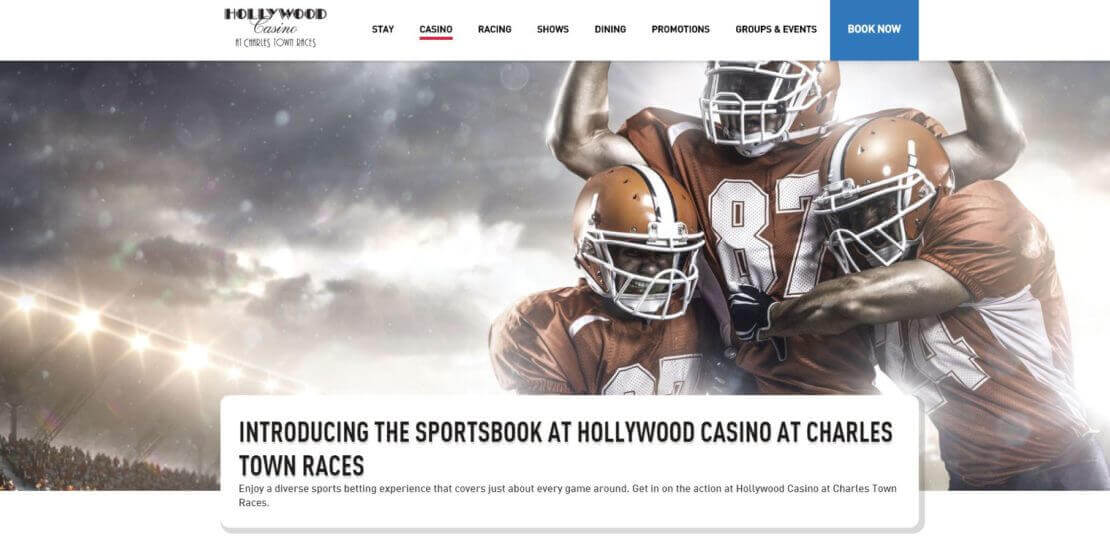 Bonuses at Charles Town Sportsbook
Different promotions, and most of all, welcome bonuses, are usually reserved for online betting platforms. We are eager to see what the Charles Town Sportsbook offers to its players.
We may get some insight into the Pennsylvania-facing online casino and the Hollywood Casino promo code offered there.
The welcome bonus allows players to prolong their betting experience but it also helps bookies to attract new customers.
Other Sportsbook Promotions
$200,000 Choose the Champs
This promotion runs through January 3, 2021. You have the chance to win a share of $200,000 in cash and other prizes.
You need to make your football picks weekly at a promotional kiosk from 12 Tuesday to 12 Sunday.
There are weekly prizes and 30 weekly winners get up to $1000 in Free SlotPlay!
Read details about more Sportsbook promotions at Charles Town in West Virginia.