In this review of BallStreet Trading, we will cover some basic features of this platform along with the possibility of the BallStreet Trading coupon code. BallStreet is the newest variation of the online market exchange with elements of sports betting. Read on for more details.
Please remember that BallStreet is not a sportsbook like FanDuel or PointsBet. Instead, this is a peer-to-peer marketplace where players can predict how will this market shares change for each team during the sports event or a fantasy sports competition, among other markets.
There is no online bookie on this platform because players are competing against each other. In simple words, it is you against the market.
This is also much different than DFS, learn how to play daily fantasy football with this piece.
Jump to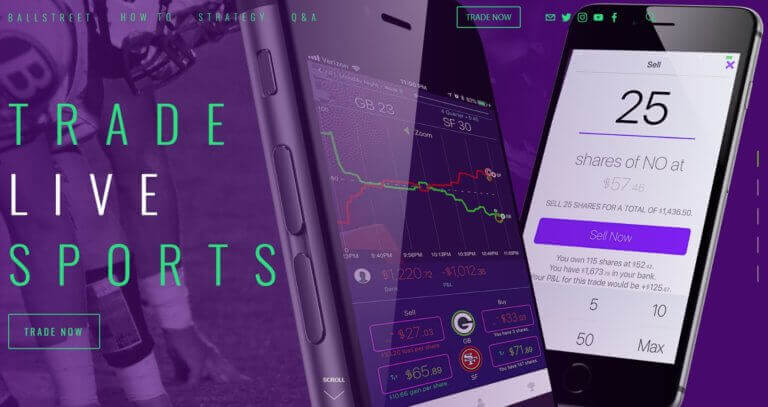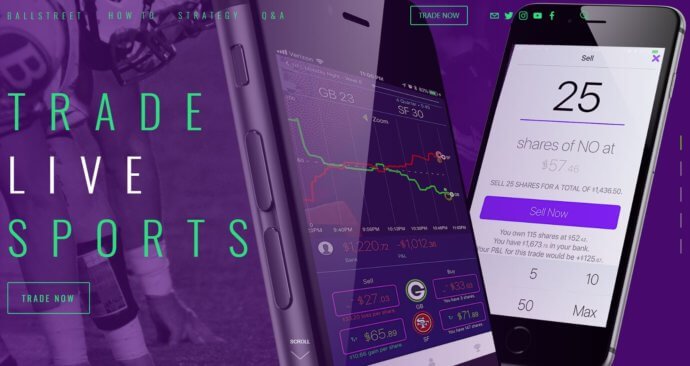 Stick around for more details on this topic, and find out if there is a BallStreet Trading coupon code.
Is There a BallStreet Trading Coupon Code?
At the moment, this online market exchange doesn't provide its users with a coupon code that could activate some kind of promotion. This will probably change in the future, so remember to check this review for more updates soon.
[table id=1]
Once we know more about this topic, we will update this part of our review.
Now, let's take a more in-depth look at this online market exchange.
More Details About BallStreet Trading
As we mentioned earlier, BallStreet is a peer-to-peer prediction market. The way this exchange platform works is, each member gets 100 shares of all the outcomes.
This means that for each event, you get 100 shares that you can use on the possible outcomes. Users can trade these shares on a specific outcome from 0 to 100, depending on what they believe the outcome will be.
In order to win, you do not need to pick the winning outcome, you just have to trade better than the rest of the market for that particular event.
There are no odds and there is no bookmaker, acting as a middle person. All shares are being priced by BallStreet's algorithm which calculates the balance of buyers and sellers in the current state of the market for that particular event.
We hope that soon enough, there will be a BallStreet Trading coupon code available to make the user experience even better on this platform.
BallStreet Trading Mobile App
Currently, players can use this trading operator through the BallStreet mobile app which is available for both iOS and Android devices.
Both versions of this mobile app can be downloaded from the iOS and Android app stores, respectively.
You can access these pages straight from the BallStreet's main website.


BallStreet Trading Registration Guide
Creating a new account on BallStreet's exchange is very easy. All you have to do is follow our step-by-step guide:
Install the app on your mobile device.
Run the app and click on the "Create Profile" button.
Fill in the registration form with the required information.
You can also use your Facebook credentials to create a new account. Just click on the Facebook icon within the signup form.
Once you complete the registration form, you will be able to use this platform.
As this operator starts to develop more, we might see the BallStreet Trading coupon code. We will most likely be able to enter this code during the registration process and get some kind of bonus in return.
What Events are Available on the BallStreet Markets?
BallStreet is working on providing their members with a broad range of different events. These markets will include both sports and fantasy sports games, among other things.
According to their website, this operator will offer some of the most popular events in the US like:
NBA
NFL
PGA
NHL
E-Sports
UFC
Politics
Award Shows, etc.
As you can see, there will be some other markets too beside sports games.
Customer Support
At the moment, members can contact the BallStreet Trading customer support via the email address on their website.
There is also a well-structured FAQ section where you can find the latest information and a more detailed look at this platform's different aspects.
Final Thoughts on BallStreet Trading
This online market exchange is definitely something new when it comes to predictions in the world of sport.
Although it is not an online betting platform, there are some similarities, at least when it comes to trading on sports events.
It is probably a good idea to check this review in the near future as we will update it as soon as we get more information on this brand and the potential BallStreet Trading coupon code.
In the meantime, feel free to create an account and give it a try.